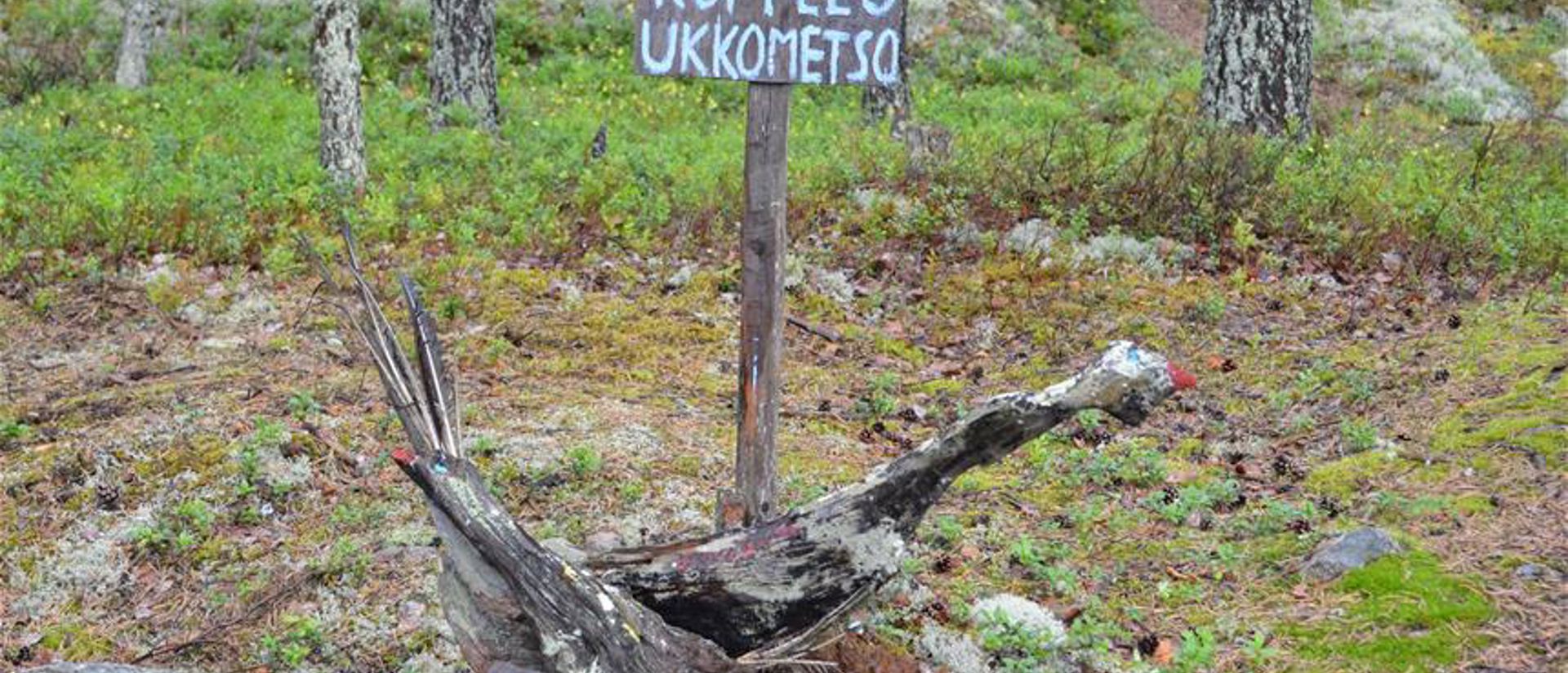 Hukkavuori Trail
Hukkavuori: 2 km, 5 km, 8 km ja 10 km
Perhaps the region's most exotic and sympathetic nature experience can be found in the northern part of the municipality: the Hukkavuori [Wolf Hill] trails. Yes, there are wolves in Ruokolahti forests, but you'd have to be very lucky to spot one. They avoid people and are of no threat to us.
The trails are not only a fascinating trip to forest nature, but also a delightful experience due to the funny signs and the generous consideration of hikers' needs. Everything is designed and built by Matti who run Päivölä farm until his demise. Päivölä is also where the parking and the first interesting details are. Matti lovingly built these trails and all its details onto his own farmyard and land during three decades.
You will understand what we mean when you visit the trails yourself. Strong recommendation.
The three longest trails up to Hukkavuori are all somewhat demanding. Even the 5 km trail takes a couple of hours. The trails are natural forest paths and have been preserved in really good condition. There are a few steep spots on the way, but even if you don't choose the "Jacob's Stairs" (picture below) or the rope-assisted slope nearby, tread carefully and calmly. Hiking boots rather than running shoes are a better bet here.
The clearly marked 5 km route fits anyone who can handle a couple of hours of walking in hilly terrain. Hukkavuori is a particularly great experience for adventurous families with children. For them the place is fun and exciting for the whole day with its side offers. With the smallest family members, take into account the demands of the longer routes.
* Starting point: Päivölä farm, Särkilahdentie 2999, 56440 Pohjalankila
* Designer & builder: Matti Päivinen (RIP), ex-owner and farmer of Päivölä farm
* Administrator: Minna Matikainen, tel. 050 337 1842
* Route options: 1 km, 2 km, 5 km, 8 km and 10 km (5, 8 and 10 km in somewhat demanding terrain)
* Dozens of official and unofficial info boards on the trail, with lots of nature info (in Finnish, but see the English pamphlet below)
* There is a cute little resting cabin built by Matti at the top of Hukkavuori and a small hut / rain shelter in Kaunitlammi
Parking is located between the Päivölä farm yard and Särkilahdentie and is clearly fenced and separated from the house and yard. Already near the parking lot the signs and objects start attracting attention. There are historic wood piles, old saws and a dozen different handwritten signs...
Step into the adventure!
Route map from Ruokolahti library to Hukkavuori parking
Hukkavuori (Wolf Mountain) nature trail pamphlet / lots of info on Hukkavuori trails in English + a map and Q&A for all ages